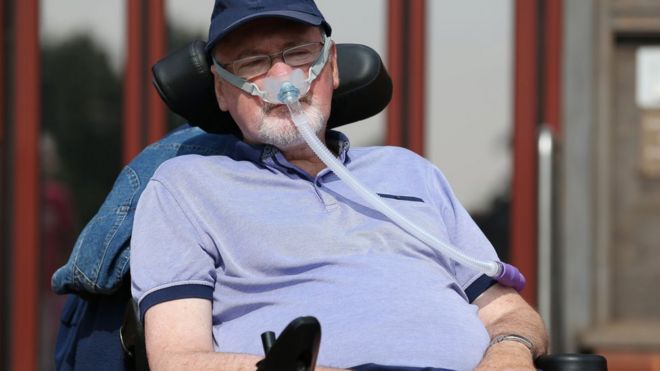 Noel Conway's talk was presented on his behalf by Simon Nightingale to the Hot Potatoes evening on 18 January. Noel is a member of Shropshire Humanist Group.

By coincidence, we heard on the same day that Noel was given permission to take his case to the Court of Appeal.
The following is a slightly revised version of the talk presented.
Dear Friends,
Simon has asked me to put together a few words for you for your open mic session tonight, which I am happy to do. Hopefully, it will clarify where we are at present with regard to trying to change the law on assisted dying. I would like to be there with you but I find it too difficult to get out in the evening, when it is dark and cold.
The High Court (administrative division) held in the last week of July last year, finally produced its judgment on 5 October. This rejected my claim that the Suicide Act 1961 section 2 is incompatible with Article 8 of the Human Rights Act, undermining my right to personal autonomy, i.e., to an assisted death. The rationale for the judgement was particularly disappointing as I explain below but there was one aspect which was favourable. This concerned the issue of whether the courts were competent institutionally to judge on the matter and not leave it to Parliament, which the previous Supreme Court judgment in the Nicklinson case had.
My legal team argued that it was the job of this court to decide whether it was 'practically feasible' for Parliament to devise a scheme whereby people in my situation i.e. of sound mind, over 18 years, terminally ill with not more than six months to live, could be assisted to die without threatening other weak and vulnerable people. The potential threat to those who are 'weak and vulnerable' is the long-standing reason given to support a blanket ban on any form of assisted dying on the grounds that it is not possible to devise any scheme that would protect such a group. My legal team did put forward such a scheme supported by a considerable amount of expert evidence. However, the High Court did not address this question but instead addressed the question of whether Parliament had 'a proper basis' for maintaining the blanket prohibition. Consequently, the High Court did not adequately address the expert witness evidence that we had provided, saying merely that it had referred to some of the evidence that had been provided by us.
The High Court therefore referred to a wide range of evidence, principally provided by opponents of any change to the law, and extended its scope beyond looking at protections for 'the weak and vulnerable ' to the more general arguments of whether (a) it will devalue the sanctity of life principle and, (b) undermine the doctor patient relationship. This is a surprising focus by the High Court, because neither of these issues were considered to be relevant by the Supreme Court in the Nicklinson case, which is held to be the most recent senior legal authority on the whole argument. Indeed, the High Court produced lengthy quotes and references from organisations like the British Medical Association, the British Geriatrics Society and the organisation, Not Dead Yet, a leading opponent campaign group established by Baroness Campbell, who was also quoted. The weight of evidence selected and the comments and conclusions drawn by the High Court, therefore, were extremely biased and one-sided.
The judgment also dismissed any notion that assisted dying bore any resemblance to the argument surrounding refusal to accept further medical intervention or the withdrawal of such. It took the view that it was not possible to identify when people with MND are in the final six months' stages of life, preferring to accept the view of Baroness Finlay, a palliative care expert (and longstanding campaigner against assisted dying), rather than Prof Barnes, an MND expert, who concludes that whilst prognosis of death is difficult to establish it is not impossible with appropriate clinical experience.
In 2010, following the Debbie Purdy case, the Director of Public Prosecutions introduced guidelines which clarified that people who had helped others to go to Switzerland for assisted dying (or to end their life at home) would not be automatically prosecuted under section 2 of the Suicide Act. Each case would be investigated, and where there was evidence that a crime had taken place, prosecutors would then have to decide, taking into account the range of factors in the guidance, whether or not it was in the public interest to prosecute. Broadly speaking, where it was established that people have acted compassionately and not for personal gain or malice, they will not be prosecuted. Many people regard this as exposing 'the weak and vulnerable' to much greater danger of criminal abuse than the safeguards proposed by Lord Falconer under the Assisted Dying Bill, and by my legal team. This important issue was not raised or discussed by the High Court.
Consequently, for many of the reasons outlined above and others, my legal team believe we have a strong case to appeal the judgement. Whether we can proceed to the Appeal Court will be decided at a hearing on 18 January.
Latest Good News! We have just heard that the Permission to Appeal Hearing approved our request to go to the Appeal Court. This is an excellent result especially as the Court approved all 7 grounds for appeal, thus vindicating our legal team's core argument that the High Court in July had directed itself to the wrong issue.
Noel Conway, 20 January 2018