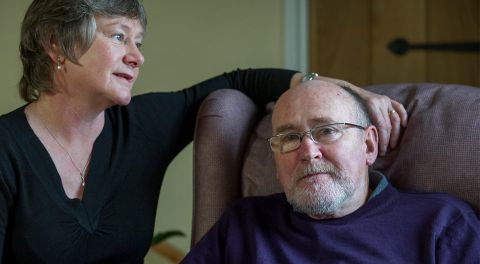 Noel Conway is a Shropshire Humanist Group member who has motor neurone disease. He is currently seeking, with Dignity in Dying, a judicial review that could result in a change to the law on assisted dying. Simon Nightingale presented this contribution on his behalf to our Hot Potatoes evening on 19 January. He asks people to write to their MPs in support.

Dear colleagues, Simon has asked me to talk briefly on the issue of assisted dying. If this paper is being read to you it is because I'm not well enough to attend and I do apologise for not being able to be with you.
As you may have noticed in the media recently, I am chief claimant seeking a judicial review to change the law with regard to assisted dying. I'm sure that most of you will be aware what the main issues and arguments are. By the Suicide Act 1961, suicide was decriminalised. However a new offence was introduced making it illegal for anyone to assist another in committing suicide. Specific reference was made to health practitioners and medical professionals. The penalty for providing such assistance is a maximum of 14 years in prison. I'm working with the campaign organisation Dignity in Dying to change the law so that terminally ill people like myself can receive assistance to die in a humane and dignified way. The legal challenge to current British law rests on the argument that the Suicide Act 1961 is incompatible with article 8 of the European Convention on Human Rights 1998 which provides a right to private life that the European Court in Strasbourg since 2011 has held means a Right to make decisions about the end of your life and your death.
There does of course need to be provision to protect vulnerable people from abuse. Consequently, the proposed changes are limited to those who are terminally ill and likely to die within six months. Two doctors must confirm this and that the person is mentally competent to make such a decision for him or herself. The law will only apply to people over the age of 18 years who have made a clear declaration that is their wish. A High Court judge must also confirm that each individual case is free from undue influence and pressure. Furthermore the individual must be able to administer a lethal dose him or herself. This is not euthanasia.
The attempt to introduce an assisted dying law in Britain is not new. There have been a number of legal and parliamentary attempts since 2002. In each case some progress has been made. A significant development was a legal challenge by Debbie Purdy, who had multiple sclerosis, in 2008-09 to seek clarity on how the law on assisted suicide was applied by the Crown Prosecution Service – she wanted to have a better understanding of how her husband was likely to be treated if he supported her to have an assisted death overseas (for example by travelling with her and providing moral support). The Supreme Court directed the DPP to introduce guidelines for anyone who assisted another to die on compassionate grounds by for example helping them to go abroad, for example, Switzerland where there is an assisted dying facility. A prosecuting policy now exists for this purpose but the courts have emphasised this has not decriminalised assisted dying in the UK and each case must be investigated individually. To date no one has been prosecuted by helping their loved ones obtain an assisted death in Switzerland. However, it is still clearly an offence for a doctor to prescribe, advise or assist in assisted dying in the UK.
The BHA has supported these attempts, the most recent of which was that by Tony Nicklinson in 2014. Tony Nicklinson had locked in syndrome after having a stroke in the mid-2000s and could only move his head. Although his claim that UK law was incompatible with his basic human rights was rejected, the Supreme Court showed a majority of the nine law Lords had tremendous sympathy for his situation. Two would have ruled in his favour and another three declared that whilst the court could rule on assisted dying, Parliament should first have the opportunity to address the issue. They took the view that it was preferable for Parliament to rule where there was such a conflict between two apparently conflicting human rights, the right to life versus the right to die. However, they stated clearly that if Parliament did not fully engage with the issue of assisted dying, then it would be for the courts to do so and they expected in that event that there would likely be a future and successful challenge made.
As you will recall, the Falconer Bill, which received majority support in the House of Lords was overtaken by the General Election of 2015. Rob Marris reintroduced an identical bill to the House of Commons in autumn last year where it was defeated by a large majority of 188 to 330. A further Bill was introduced by Lord Hayward in June last year but this has not received a second reading nor is it likely to do so. Consequently, the blanket ban on assisted dying remains in Britain and since Parliament has not provided for the terminally ill as the Supreme Court Justices signalled, the initiative must return to the courts.
It must be said that it will still be possible for Parliament to ignore any ruling by the Supreme Court that UK law is not compatible with article 8 of the Human Rights Act 1998. It is essential therefore that the legal case is accompanied by a robust media campaign to change the law and I would urge all those of you who support it to campaign locally by contacting the MP for Shrewsbury and Atcham, Daniel Kawyczinski, who has so far opposed any change in the law. You can also join Dignity in Dying or sign up to its email list or facebook or twitter for regular updates.
Although the House of Commons has proven particularly unsupportive, though not the House of Lords, there is consistent and robust evidence to show that 80% of the electorate in the UK support assisted dying. Despite this, change will not be easy given the opposition of three powerful vested interests: the Church of England, the British Medical Association and pressure groups representing the disabled such as Not Dead Yet.
As a humanist, I'm committed to a rationalist and humane perspective and support all measures which are not to the detriment of others. I have been a supporter of the principle of assisted dying for many years. Now that I find myself terminally ill with MND and perhaps less than 12 months to live I am even more of the view that a change in the law is essential in a civilised and humane society.